CENTRO DE ESTUDIO DE TEOLOGIA
DEL MINISTERIO CASA DE ORACIÓN PARA TODOS LOS PUEBLOS
ASAMBLEA DE DIOS (ADCOP)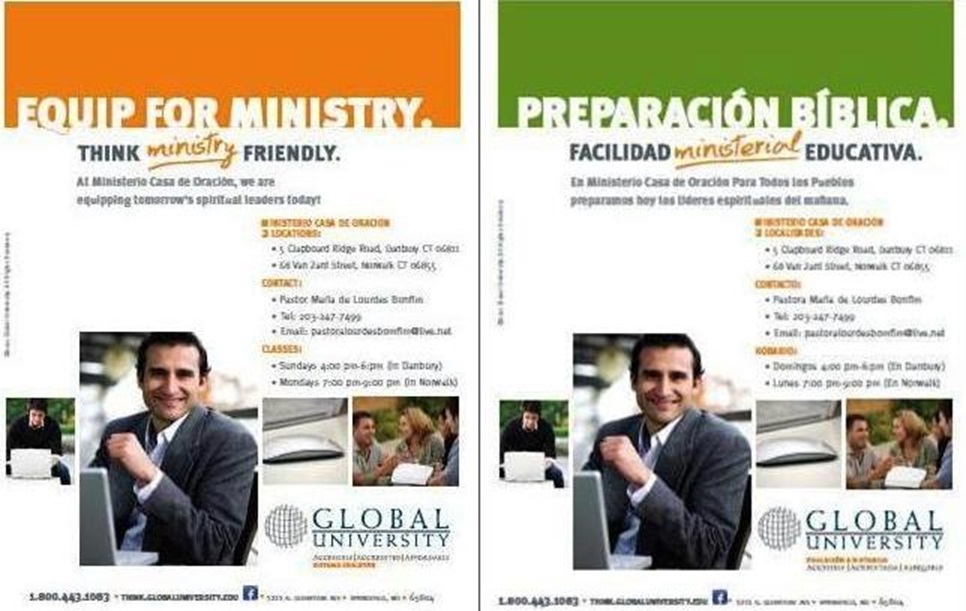 PREPARACIÓN BÍBLICA
FACILIDAD MINISTERIAL EDUCATIVA
En el Centro de Estudio del Ministerio Casa de Oración Para Todos Los Pueblos Asamblea de Dios ADCOP preparamos hoy los líderes espirituales del mañana. El Centro de Estudio ofrece Cursos Ministeriales con profesores altamente cualificados. Los cursos son para preparación de líderes y obreros al Ministerio en los siguientes niveles:
Nivel Ministro Certificado
Nivel Ministro Licenciado
Nivel Ministro Ordenado
El Centro de Estudio también ofrece el Curso de Teologia con especialización de Liderazgo, de Discipulado, de Evangelismo y de Misiones.
En los siguientes horarios:
Sábados: 2 Horarios: 5:30 pm – 7:30 pm (En Norwalk)
Le Gustaría a usted aprender más de la Palabra de Dios? Ven a estudiar con nosotros!
Los cursos son en Español e Inglés.
Para más información póngase en contacto con:
Pastora Presidente: Maria de Lourdes Bonfim Tel. 203-247-7499 (cell)
EQUIP FOR MINISTRY
THINK MINISTRY FRIENDLY.
At the Study Center of "Ministerio Casa de Oración Para Todos Los Pueblos" Assembly of God (ADCOP) we are equipping tomorrow's spiritual Leaders today! The Study Center offers ministerial courses with very qualified teachers. The courses are made to prepare leaders and ministers for the Ministry in the following levels:
Certified Minister
Licensed Minister
Ordained Minister
Also the Study Center offers the Ministerial Studies Course with leadership honors and Discipleship, Evangelism and Missions.
Classes Schedule:
Saturdays: 2 Schedules: 5:30 pm – 7:30 pm (In Norwalk)
Would you like to learn more from the Word of God? Come to study with us!
Our courses are in Spanish and English.
For more information, please contact:
President Pastor: Maria de Lourdes Bonfim Tel. 203-247-7499 (Cell)